We proudly deliver AFRC to our competitors with the kind help of our partners.  We'd like to publicly thank our partners as without their help the series would be undeliverable.
Founded in 1939 to promote the use of the Austin Seven in road and trials events the club is now a national organisation.  They now organise a very impressive race calendar across a huge variety of formulae (including AFRC) and also are the organisers and promoters of the annual Birkett 6Hr Relay race.
Race To The Finish Memorabilia

Established by real F1 fans, to give other F1 fans the opportunity to buy absolutely authentic items of F1 Memorabilia from a genuine and trustworthy source.  A range of their goods can be found on their website.  Give them a follow on Twitter @F1_Memorabilia .

Project programme and IT services.
Motorsport engineering, on-event support, driver coaching, chassis setup, full championship assaults - Podium Prep can provide high quality services to most competitors.  With customers varying from the enthusiastic track day driver to championship contenders PP have the expertise and equipment to tailor appropriate support.
British Army Motorsports Association

'Giving serving members of the Army the opportunity to participate in Motorsport' 
The RAF Motor Sports Association (RAFMSA) has been active since 1961 and encourages participation in motor sports events at local, Inter-Service, national and international level.
Royal Navy, Royal Marines Motorsports Association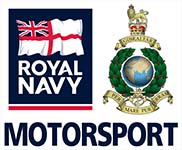 To provide RN/RM personnel with the opportunity to represent and promote the Royal Navy and Royal Marines through Motorsport and associated activities at Inter-Service and National events, whilst focusing on promoting RN/RM Identity, Team Spirit, Fitness and Competition.